Accra Technical University
Accra Technical University, also simply known as ATU, is a government university of technology that is located in Accra, the capital city of Ghana. The Accra Technical University was first established in 1949 in Ghana as a Technical School. It was commissioned in 1957 as the Accra Technical Institute, and in 2013, the Parliament of Ghana changed its status to that of a Technical University.
The government of Ghana formed the university in 1949, making it the first technical university in the country. It also inherited the assets, teachers, and students of the former Accra Polytechnic, which it merged with to form the university. The provision of technical and vocational education is the primary focus of ATU, which also features a comprehensive selection of courses in the fields of engineering, applied sciences, business studies, and information technology.
The University is dedicated to providing students with a well-rounded education that includes opportunities for hands-on experience in the form of internships and co-op assignments, as well as training in practical skills.
The aim of the university is to develop strong collaborations with industry and community stakeholders, provide outstanding technical education and training, and encourage cutting-edge research and innovation. The goal of the Advanced Technology University (ATU) is to produce graduates who are highly knowledgeable, talented, and prepared to contribute to the growth of Ghana and Africa as a whole.
Accra Polytechnic and Accra Technical Institute
The Accra Technical University was renamed the Accra Technical Institute by Dr. Kwame Nkrumah in 1963. In 1992, it was renamed Accra Polytechnic and elevated to tertiary status to offer HND and certificate programs. In 2007, it began to offer Bachelor of Technology programs, and by the year 2016, ATU had converted into a technical university.
University Facaulty
At the moment, the university is comprised of a total of 5 faculties and 16 departments. These faculties are as follows: the Faculty of Engineering; the Faculty of Built Environment; the Faculty of Applied Sciences; the Faculty of Applied Arts; and the Faculty of Business.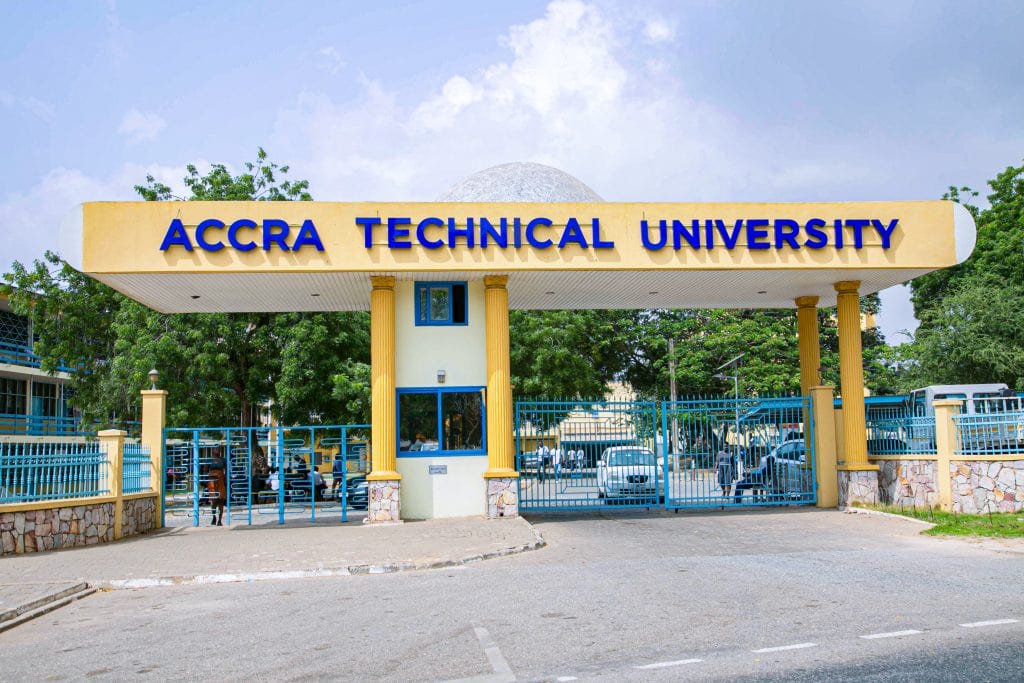 Accra Technical University Courses
ATU provides a diverse selection of courses, giving you the ability to select the ones that are most relevant to your goals.
Programs Leading to a Bachelor of Technology Degree (4-year Straight Degree)
Programs Leading to a Bachelor of Technology Degree (2-year Top-up)
Programmes leading to a Higher National Diploma (3 years)
Non-HND Programmes
Certificate and Continuing Education Programs
Programs for Improving One's Language Abilities
.
How to Apply to Accra Technical Uni (ATU)
ALL APPLICANTS ARE REQUIRED TO OBTAIN AN E-VOUCHER (LOGIN DETAILS);
a) To pay and receive your electronic voucher via text message, dial the shortcode 389288#, and then follow the prompts (ALL NETWORKS).
b) International students should send an email to info@atu.edu.gh from any Bank of Africa, Fidelity Bank, or Access Bank branch in order to register for classes at ATU.
In response to the email, the application voucher will be generated, and it will be sent back to the sender.
FOR ADMISSIONS, LOG ON TO THE ADMISSIONS SYSTEM AT https://application.atu.edu.gh/ WITH THE E-VOUCHER NUMBER AND PIN.
IN ORDER TO COMPLETE YOUR APPLICATION, CAREFULLY FOLLOW THE INSTRUCTIONS PROVIDED BY THE ONLINE ADMISSIONS SYSTEM.
SUBMIT YOUR FINISHED APPLICATION ONLINE, AND MAKE SURE TO PRINT OUT AND KEEP A COPY OF THE SUMMARY PAGE FOR YOUR OWN RECORDS.
THE COST OF APPLICATION FORMS FOR THE VARIOUS PROGRAMMES IS AS FOLLOWS:
Bachelor of Technology (BTech) – 190.00 Ghana cedis
Higher National Diploma (HND) – 190.00 Ghana cedis
Mature Applicants – 190.00 Ghana cedis Non-HND – 190.00 Ghana cedis
Pre-HND – 190.00 Ghana cedis
Language Proficiency – 100 Ghana cedis
International Applicants – 190.00 Ghana cedis
Bachelor of Technology (BTech) – 190.00 Ghana cedis
PLEASE TAKE NOTICE, MATURE APPLICANTS, THAT:
THE AMOUNT OF GH 400.00 IS REQUIRED FOR BOTH THE TUITION (CLASSES) AND THE MATURE ENTRANCE EXAMINATION.
AT ANY BANK OF AFRICA, ACCESS BANK, OR FIDELITY BANK BRANCH, ELIGIBLE MATURE APPLICANTS ARE REQUIRED TO PAY THE AMOUNT OF GH 190.00 AND GH 400.00 RESPECTIVELY, COVERING THE COST OF THE APPLICATION FORM, TUITION (CLASSES), AND MATURE ENTRANCE EXAMINATIONS.
.
Accra Technical University Address
Address: P. O Box GP 561, Barnes road, Accra.
Digital Address: GA-106-2535
WhatsApp: 0543264917
Call: 0544368159
Office Number: 023333 2095371
E-Mail: info@atu.edu.gh / pr@atu.edu.gh
.
READ ALSO:
.
SKB Journal appreciate you a lot for reading!  If you enjoyed this piece by Samuel Kwame Boadu, kindly hit the share button and help others to also see it. You can also like our Facebook page, so you know when we make new posts or Click to JOIN our Telegram Channel where we post JOBS + TIPS