Teaching Jobs in China
Ghanaians who are interested in working as teachers in China may submit their applications to a variety of recruitment agencies, as well as directly to foreign schools and language institutions located in the country.
How to apply for teaching jobs in China
Obtaining a bachelor's degree, a teaching certification, and the necessary amount of relevant teaching experience is normally required in order to qualify for teaching jobs in China.
It is highly recommended that you investigate the exact requirements of the institutions that you are interested in applying to because these institutions may have particular preferences or needs.
How to work in China as a foreigner
In order to work in China as a foreign person, you are going to need to educate yourself on the conditions for obtaining a work visa.
You can work as a teacher in China if you are from Africa provided that you secure a post at an international school or language institution. For most of these jobs, you will need to have a bachelor's degree, a teaching certification, and at least a few years of experience in the field of education that is relevant to the job. In addition to this, in order to legally work in China, you will need to obtain a work visa.
How much do foreign teachers in China make?
The salary that is offered to foreign teachers in China can vary drastically depending on a number of criteria, such as the individual's qualifications, level of experience, the organization that they are employed with, as well as the location of the school. Before taking into account any necessary deductions for taxes, a monthly compensation of 8,000 to 20,000 RMB (or $1,200 to $3,000) might be anticipated for foreign teachers working in China.
There are several language institutions and foreign schools that may offer greater salaries, in addition to benefits like housing allowances, health insurance, and paid vacation time.
It is vital to keep in mind that the cost of living in China can vary greatly depending on location. Because of this, it is essential to conduct research on the particular place you intend to work.
Should you teach in China as a foreigner?
Being a foreigner and working as a teacher in China can be a rewarding and one-of-a-kind experience. You will have the chance to immerse yourself in a new culture, acquire new language skills, and make significant contributions to the educational experiences of your pupils. However, there are also certain difficulties to take into consideration, such as adapting to a new educational environment, and overcoming language obstacles, and cultural differences.
It is vital to do a study on the country and the employment market in China before making the decision to teach in China. Additionally, it is important to research the particular school and teaching post that you are thinking about applying for. You should also be informed of the procedures for obtaining a work permit and a visa for foreign teachers, as well as making appropriate preparations for health insurance and support services.
Your personal preferences, professional aspirations, and level of comfort with working and residing in a foreign country will ultimately determine whether or not teaching English in China is a viable option for you.
Best courses to teach in China as a foreign teacher
The English language and courses relating to science, technology, engineering, and mathematics are often the most in-demand subjects for foreign teachers to teach in China. The fields of business and finance, as well as the creative arts, are also quite popular.
Your chances of finding work as a teacher in China can be improved if you hold a valid teaching qualification and have previous experience in your chosen profession.
In the end, the best subject area for you to teach in China will be determined not only by your own knowledge, experience, and passions but also by the requirements of the schools and students you intend to serve. At the moment, teaching English is one of the most in-demand jobs for foreigners in China, and this includes jobs for teachers coming from African countries.
Teaching In China
Teaching in China is a very worthwhile experience, especially for those who love to teach and are serious about their career. There are many challenges associated with the role of a foreign educator in China, but there is also a lot to be excited about. You will find yourself immersed in Chinese culture and immersed in the Chinese classroom. This will be a great challenge because teaching in China is different from teaching in any other English-speaking country. The culture and language of China are so different from the African and Western cultures. You will have to adjust your teaching methods to suit these differences.
How to start teaching in China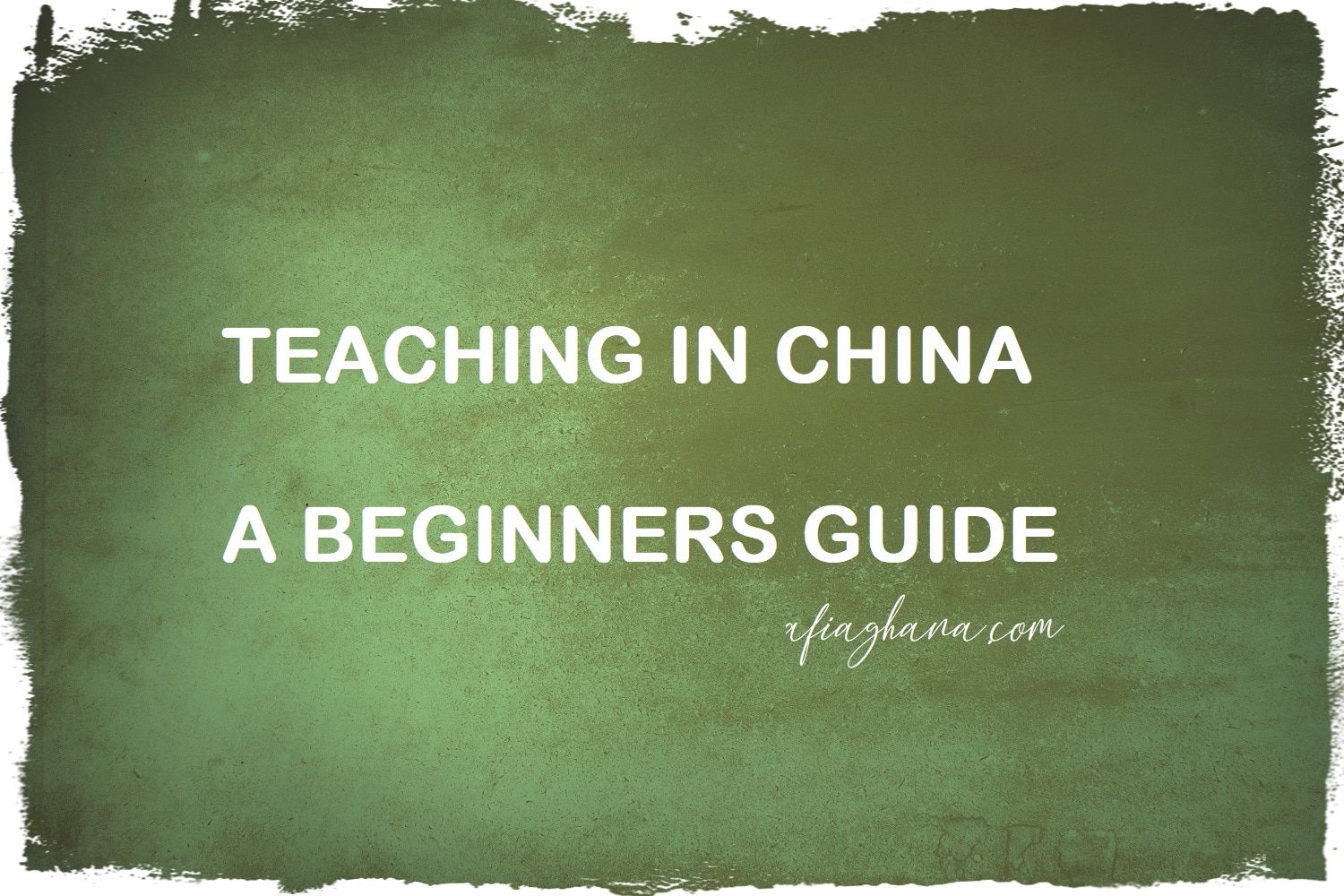 You can begin your preparations by choosing the best area of teaching in China where you would like to teach. There are many different areas and departments in China where you can teach, such as special education, early childhood development, basic college education, business administration, science, foreign language, and foreign studies.
There are many private teaching posts as well as government job postings in the various sectors of teaching in China. Each region and department will have its own requirements when it comes to applying for teaching positions.
First of all, you will need to apply for a teaching visa. As in most countries, you will need to pass an English language examination in order to become eligible for teaching in China. The number of foreign teachers who apply for teaching positions in China is on the rise. The number of teachers who apply for teaching positions in China is on the rise.
After you have obtained your visa, you will need to register in the town or city in which you plan to reside. You will need to register at the local teaching registration office, where you will fill out application forms and pay the required fee. Some of the countries may require you to complete a training program before being able to legally teach in China.
What to consider before teaching in China
There are some important considerations that you must make before you begin your preparations for teaching in China. When applying for a teaching job in China, be sure to inquire about the English language portion controls that each country has. Many people who teach English in China overlook this aspect, not realizing that English language portions are tightly controlled by the Chinese government.
To avoid trouble with the Chinese authorities, you should know what the necessary rules and regulations are regarding English language portions. Some students who are native English speakers have difficulty understanding parts of the course curriculum in English because they are unfamiliar with the rules of the English language. If this is the case, you should look for an institution that offers a great deal of help in preparing you for the exam.
Once you have registered for English language study courses, you will need to visit a country center that offers English language classes. This part of the process will involve testing your ability to understand and use basic phrases in the English language. In addition, you will need to give a paper for every lesson you teach in China. This paper, together with your teacher's notes on the lesson, will serve as your student's final evaluation of the lesson.
China is a wonderful place for foreign teachers to teach the English language. The economy is growing, and the quality of life is getting better. With the growth of the internet, more businesses are starting up in China that require English speakers. In fact, over 1 million Chinese are now learning English. If you are thinking of teaching in China, the process might seem overwhelming at first.
However, once you get started, it will all start to make sense. You can always get a job if you plan on staying in China and obtaining a teaching visa. Otherwise, you can pursue your TEFL Certificate program on your own terms.
How to find teaching jobs in China online
You can obtain employment as a teacher in China using a variety of internet platforms and services, including:
Online Job sites: Websites that facilitate the search for employment include Indeed, LinkedIn, and Glassdoor, all of which frequently feature job advertisements for teaching roles in China.
Recruitment agencies: There are recruitment agencies in China that are dedicated to the placement of instructors in international schools.
Travel Agents: You can do a search for such agencies on the internet and then submit your application, together with a cover letter and CV, to them for consideration.
Chinese School websites: There are a great number of international schools and language institutions in China, and many of them have their own websites where they offer employment openings. You can conduct a search for schools in China and make it a habit to check their websites on a regular basis for employment opportunities.
Online communities and forums: Educators can communicate with one another and share information about career prospects in China by participating in online communities and forums. You may do a search online for communities and forums like these, and then join them to get the latest information about available jobs.
Social media: Some schools and other institutions in China use social media platforms such as Facebook and Twitter to publicize available positions inside their organizations. If you want to be the first to know when new job opportunities become available at the colleges and institutions that interest you, it might be a good idea to follow their social media accounts.
Before submitting your application for a teaching post in China, it is critical to conduct extensive research on the schools or organizations that pique your interest and verify that you satisfy all of their prerequisites.
.
SKB Journal appreciate you a lot for reading!  If you enjoyed this piece by Samuel Kwame Boadu, kindly hit the share button and help others to also see it. You can also like our Facebook page, so you know when we make new posts or Click to JOIN our Telegram Channel where we post JOBS + TIPS.