How To Start An Online Business with no money
You may be asking yourself, "How to start an online business with no money?" Well, many people often break down the expenses needed to start an online business, but the fact is, you can do so without a dime. There are several online businesses you can start with little to no money. Some of these things include creating your own e-book, selling on social media, blogging on social media, and selling on free classified websites such as Tonaton, Jiji, eBay, etc., depending on which part of the world you live in. There are several ways to start a business without money, and in this article, I'm going to explain how to do it.
Creating an online book (Ebook)
Starting an ebook business can be easy. You can reach as many people as you like, without spending anything on marketing. With an online book business, the method is simple. Create ebooks and sell them on Amazon or any other free book-selling website. And you can start with as little as zero dollars. Your ebooks can be anything from courses to romantic novels or cheat sheets. You can grow the business over time, and you can later market it after you've made some revenue. You can also join ebook clubs via social networks, such as Facebook and Twitter. After joining these clubs, promote your ebooks in the group and you may get some sales without spending a dime.
Once you create your ebook, you'll need to come up with a selling price. This can be a challenge, but you can always offer some of your ebooks for free, and promote your paid ebooks in your free ebook. This will help you get some downloads quicker. For example, if it's a novel, the first edition of the story can be free, and then the subsequent ones will be for a fee. As long as you can offer a low price, you'll be able to attract new readers, so don't be afraid to be creative with your marketing.
The Internet has made it easier for people to start selling books, and a growing number of people are already part of that community. If you're passionate about books, consider joining a free online book club to get started. These clubs are growing in popularity all over the world, and you can join one today. You may be surprised at how quickly your business grows. You will be surprised at how quickly you can reach new readers!
Book clubs are a great way to increase your knowledge and buy better books. Many people love books, and you can easily recruit new readers for your ebooks. The best part? You can use social media to share your love of literature. You can send the ebooks you create to your friends to read and share as well. You'll be able to start an online business with no money, and that's a great start.
Creating an online art gallery
If you don't have any money to invest in a website, you can use a website builder. A website builder has drag-and-drop editors that let you create your own galleries without any coding knowledge. There are also no commission fees to worry about because most site builders only charge around 2% of the total price of the work. And, you don't have to compete with other artists for the same audience.
Online art galleries are growing in popularity, and more people are buying artwork online. Though galleries traditionally had a higher percentage of in-person sales, some young galleries report over 50% of their sales online. In fact, many young galleries have more than 50% of their sales online, which is quite impressive for a new gallery that doesn't know much about its collector base. Despite these challenges, art lovers are increasingly buying artwork online. Although the creative arts are slower to catch up to other industries, they have been gaining steam in the last five years. Many artists are now going digital.
Selling on free classified websites
If you are thinking of starting an online business but have little to no capital, selling on a free classified website such as eBay, Tonaton, Jiji, or Amazon is a great way to start your internet business. This is by far one of the best and fastest ways to make money online without too much investment. By using a free classified ad site to sell your items, you cut down on expenses associated with creating your own e-commerce website, marketing, and paying for server space. All that is required of you is to decide on which products you'd like to sell and to set your prices.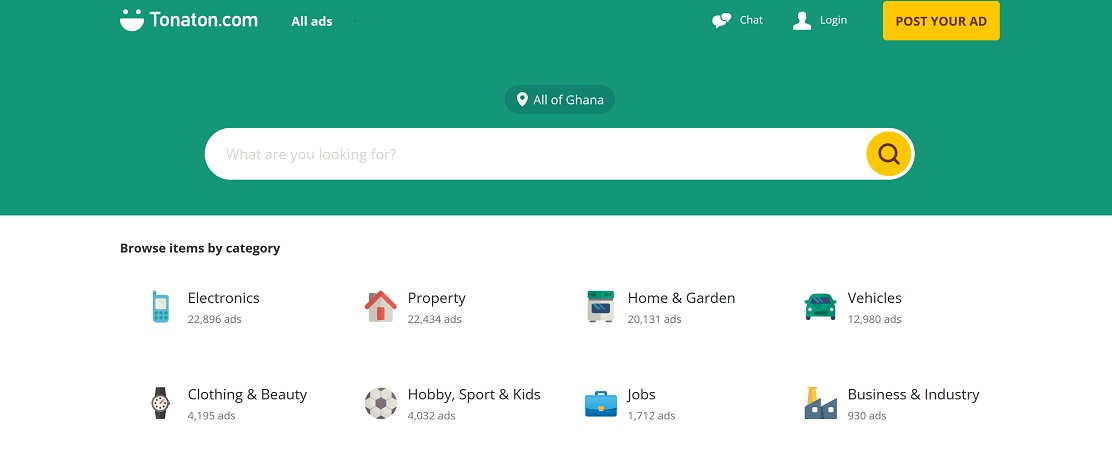 If you have no items to sell, you can sell someone else's items and add your profit to it. Just keep in mind that there is competition on these sites. This is why you should choose a classified ad website with a lot of monthly traffic. There are several e-commerce giants on the internet, but you should remember that not all of these sites are free for sellers.
A good product will not only allow you to make sales faster but will also attract more buyers and sellers to your other product listings. Next, pick a suitable name for your business. Your business name will showcase the most important aspects of what you sell. It should be short, catchy, and include keywords important to your target audience. If you're just starting out, you should choose a name that represents your real company well.
Blogging on social media, especially Instagram, has become very popular in parts of western Africa. Ghana and Nigeria specifically. Instead of creating a blog and spending money on server fees and other plugins and tools, you can simply start blogging on Instagram or Facebook for absolutely nothing. Most of the top bloggers in Ghana and Nigeria started on Instagram and Facebook and eventually expanded to their own websites. You can make money from this after your social media blog page has gained enough followers and interactions. Brands will pay you to advertise on your social media page.
Creating an online magazine
Creating an online magazine is a relatively simple business to start for a new entrepreneur or small business. The Internet allows you to make money from online advertising through services like Google Adsense. There are also affiliate marketing options available. A niche site has a high page ranking and can attract visitors from search engines. Many content creators prefer to deal directly with their audience, rather than relying on a third party.
Unlike most other business models, a magazine publication requires a business plan. It should contain all the financial goals and expenses that the magazine will incur. You may also want to look for ways to generate income from the magazine. If you plan on generating income from advertisements, you should also include how you will fund various expenses. In your business plan, you should write down the mission of your magazine, what kind of content you will publish, and how you will obtain subscribers. You should also research the competition and find out what they're doing to build their businesses.
The first few visitors are critical in building momentum. Without anything to read, these visitors won't come back. It's therefore important to have a list of at least 10 articles to offer your first visitors. While it may seem daunting to start creating a layout, it's more effective than worrying about designing. Besides, the most successful online magazines have menus under the articles, and a selection of their best pieces.
Next, you need to find writers to contribute to your online magazine. Once you have a few writers, pay them appropriately. Even if you don't plan on generating revenue from your online magazine, you should pay them for their efforts. Free articles can also help promote your business. You may also consider hiring freelance writers to help you create the content for your online magazine. It's important to remember that you should be professional and have a business plan.
.
READ ALSO:
.
SKB Journal appreciate you a lot for reading!  If you enjoyed this piece by Samuel Kwame Boadu, kindly hit the share button and help others to also see it. You can also like our Facebook page, so you know when we make new posts or Click to JOIN our Telegram Channel where we post JOBS + TIPS