Thomas Muller's appearance in Manchester City's Champions League quarter-final first leg against Bayern Munich saw him join Ryan Giggs as the seventh player with the most appearances in European competition. BeSoccer Pro noticed the German's advance in a ranking led by Cristiano Ronaldo, Iker Casillas and Leo Messi. The German is within touching distance of Raul Gonzalez Blanco.
Thomas Muller is not only a legend in German football, but also in European football. With his appearance in the first leg of this season's Champions League quarter-final, he matched Ryan Giggs in terms of appearances in the European competition. Both men feature with 141 in a historic list of statistics available to BeSoccer Pro, which took a look at their progress, always coming from Bayern Munich.
The legendary players featured in this report are in seventh place in the list of players with the most duels on the path to the UCL title. The first is Cristiano Ronaldo, with 183, who sees the podium completed by Iker Casillas, with 177, and Leo Messi, with 163. In principle, only the Argentinian could continue to set records unless he leaves the big leagues for next season, something the Portuguese has already done. He now plays for Al Nassr.
Following closely behind the Parc des Princes side star are Xavi Hernandez, currently coach of Barcelona, with 151, and Karim Benzema, with 148. Behind the Frenchman, the names that Muller could soon surpass are emerging. Raul Gonzalez Blanco played in 142 Champions League games and the aforementioned Giggs in 141, the same as the Bavarian, so one more will be enough for him to equal the Madrid legend and leave the Manchester United man behind. With two, he will have overtaken them both.
Already behind Muller are Sergio Ramos, on 137, and his compatriot Toni Kroos, on 135. Carlo Ancelotti's midfielder, in fact, is one of his main threats in the standings, as he is part of a dangerous and fancied team in Europe, so if he progresses to the final, he could be very close to his tally. Among them, Ramos also has a good chance of being overtaken by his former teammate.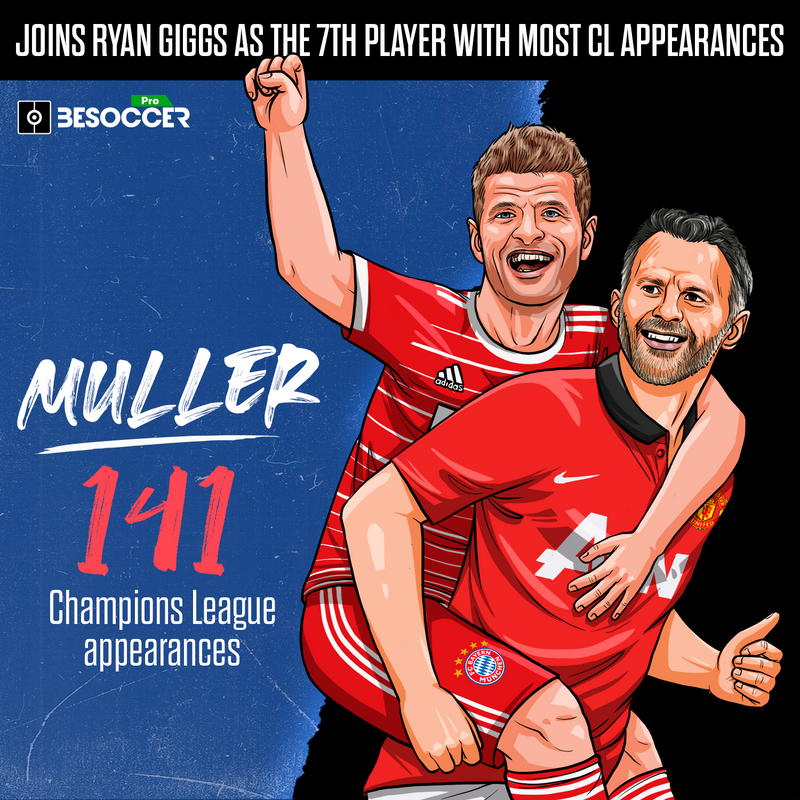 .
READ ALSO:
.
SKB Journal appreciate you a lot for reading!  If you enjoyed this piece by Samuel Kwame Boadu, kindly hit the share button and help others to also see it. You can also like our Facebook page, so you know when we make new posts or Click to JOIN our Telegram Channel where we post JOBS + TIPS