Used Cars in Ghana for Sale: How To Buy Cheap Cars in Ghana
You can buy cheap cars in Ghana by visiting a trusted automobile sales garage or via an automobile classified website such as Carghana, Jiji, Tonaton, and autocheck.
If you decide to purchase used cars online in Ghana, always make sure to buy from a verified seller only. Do not make any payments to the seller without viewing the car. After meeting up with the seller, make sure all car documents are valid and the car has been inspected by a mechanic before going ahead to sign any legal documents.
Buying a used car from a trusted car garage in the country is the best way to acquire a fairly used vehicle. You can find most car dealers and garages by the roadside in most major cities in Ghana.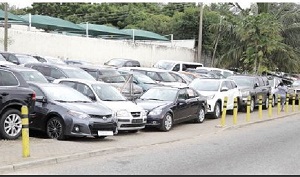 Before deciding on where to buy cheap cars in Ghana, you should be aware of the possible options for cheap cars for sale in this country. The car types vary, depending on the origin or car condition.
You can find a countless number of fairly used cars for sale in Ghana online and offline. The prices of the cars for sale in Ghana may be somewhat higher as compared to other countries such as the U.S due to the high import charges and rates. Depending on the type of vehicle you want to purchase, prices may vary.
With the increasing number of internet users in the country, buying cars online has become a feasible option. You can browse through a selection of cars in the comfort of your home. You can as well get remarkable bargains for used cars from credible online automobile classified sites and sellers.
Below are the top recommended sites to buy used cars in Ghana:
Jiji
Tonaton
Carghana.com
When dealing with online auto-sales sites, always contact the website for support if you are a first-time buyer. Be also extra careful when purchasing from unverified sellers. You can purchase and import used cars from overseas too.
.
READ ALSO:
.
SKB Journal appreciate you a lot for reading!  If you enjoyed this piece by Samuel Kwame Boadu, kindly hit the share button and help others to also see it. You can also like our Facebook page, so you know when we make new posts or Click to JOIN our Telegram Channel where we post JOBS + TIPS.