Pharm. Kofi Addo-Agyekum, Chief Executive Officer of a prominent pharmaceutical company, Kofikrom Pharmacy Limited, has been recognized as the Outstanding Entrepreneur of the Year in the pharmaceutical category at the prestigious 13th Ghana Entrepreneur and Corporate Executives Awards and Summit held in Accra recently. 
The esteemed accolade was presented to him by the organizers in recognition of his exceptional leadership and contributions to the pharmaceutical industry.
Pharm. Kofi Addo-Agyekum's remarkable achievements and impact in the pharmaceutical sector during the review period captured the attention of the awards committee. His unwavering dedication and support for the industry in Ghana and beyond played a significant role in his selection for this prestigious honor.
Under his astute guidance, Kofikrom Pharmacy Limited has emerged as a dominant force within the pharmaceutical sector. This success can be attributed to continuous quality improvements in products and services, as well as a steadfast commitment to upholding ethical standards in the industry.
Expressing his gratitude for the recognition, Pharm. Kofi Addo-Agyekum extended his appreciation to all those who have contributed to the success of Kofikrom Pharmacy's endeavors.
Recognizing the collective effort of his team, Pharm. Kofi Addo-Agyekum added, "This award is a testament to the devotion, hard work, and innovation of my team, as well as the extraordinary progress we have made in the pharmaceutical sector. I extend my deepest gratitude to all the staff of Kofikrom Pharmacy Ltd for their diligence, professionalism, unwavering support and commitment.
"Their dedication and teamwork have been instrumental in achieving our collective goals and delivering exceptional service to the people of Ghana."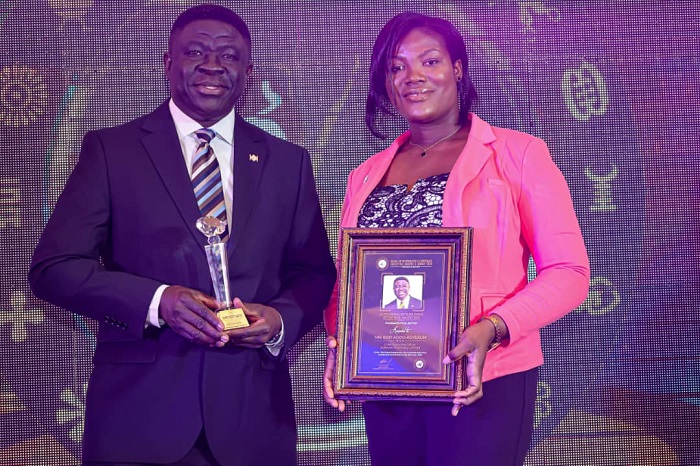 The award ceremony, which took place at the Labadi Beach Hotel in Accra on June 23, 2023, drew industry leaders and distinguished professionals to discuss strategies for fostering business cooperation between the private and public sectors in Ghana.
Themed 'Promoting Business Cooperation between Private and Public Sector Development in Ghana,' emphasised the importance of collaboration for national growth and development.
The 13th edition of the Ghana Entrepreneur & Corporate Executive Awards & Summit, organized by the Entrepreneurs Foundation of Ghana in collaboration with the State Interests and Governance Authority and the Ghana Chamber of Commerce and Industry, aimed to provide a platform for networking, celebration, and recognition of successful entrepreneurs, corporate CEOs, and public service CEOs.
The event honored individuals who have made significant and positive contributions to the economy, demonstrated sustained business performance, adhered to good corporate governance principles, pioneered noteworthy achievements, and exhibited outstanding leadership in their respective fields over the past years.
.
READ ALSO:
.
SKB Journal appreciate you a lot for reading!  If you enjoyed this piece by Samuel Kwame Boadu, kindly hit the share button and help others to also see it. You can also like our Facebook page, so you know when we make new posts or Click to JOIN our Telegram Channel where we post JOBS + TIPS