The 2nd African Beach Games was held in Hammamet, Tunisia and just as in Sal, Cape Verde where this multisport event debuted, Teqball is yet again in the program with the maximum number of players and countries possible.
In three categories, men's singles, men's doubles and mixed doubles between 24 & 26 June with 35 teqers from 12 countries the Teqball tournament for the second time was part of the African beach games.
The home team was led by Yassine Sahli the only African athlete in the World Ranking top 10 in any category, thus he is the highest-seeded player in men's singles. He also competes in men's doubles, along with his brother Youssef Sahli Saifallah. The 25 years-old Youssef returns to the table with Norhan Ayari in mixed doubles.
Cameroon sent athletes to the ABG only in Teqball. One of them is Gregory Dylan Tchami Djomaha, the title holder at this tournament as he won in the only category, in men's doubles with Hubert Noah Essomba. This time, the World Ranking 38th Cameroonian's pair in MD is Marcelin Teifouet Tsague, who with Marie Letitia Togodnye Yaoussou face the opponents in mixed doubles.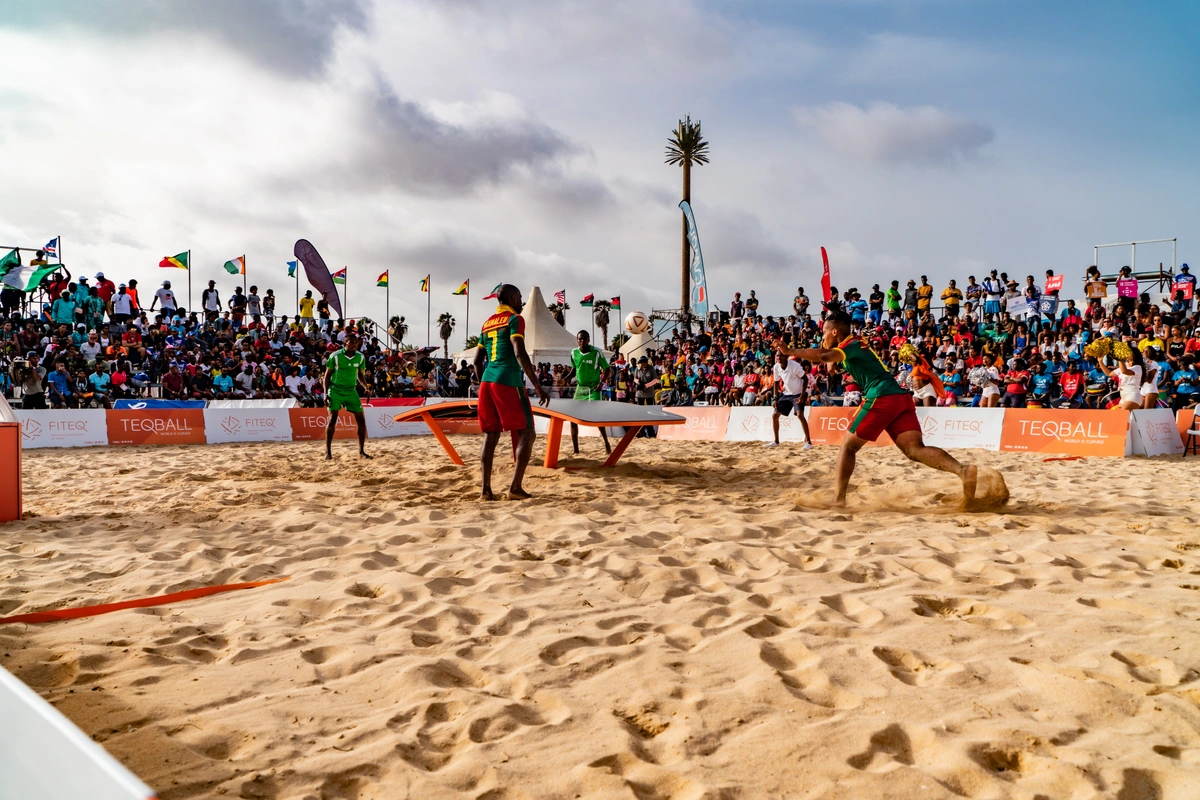 Algeria's Samir Maoui is among the most experienced player, however, his fellow teqer Fethi Larit who finished 5th at Teqball World Championships 2019 in men's singles is the oldest challenger in the 2nd African Beach Games with his 47 years. Larit competes in both doubles, in mixed Malak Benyounes is his partner.
Sylvester Oko Nortey from Ghana in men's singles category is among the best 100 teqers on World Ranking. He represents his nation in MS, while his partner in men's doubles is the 16 years-old Daniel Fobi. The youngest player in the tournament paired up with Martha Appiah to fight for the trophy in XD.
Senzo Menzi Mnisi who triumphed in both doubles categories at Eswatini Challenger Cup last year faces his opponents in singles, while the 129th ranked athlete is with Siphosethu Sikhondze in men's doubles. Siphesihle Dlamini who won the domestic championships in mixed category last year attempts to get the trophy in the same class.
Sierro Leone's line is with Abdulai Bangura, Christian Lavalie and Kadiatu G Kamara while the island country Cape Verde sends Sidnei Soares Silva, Teodoro Silva as well as Jarise Evora.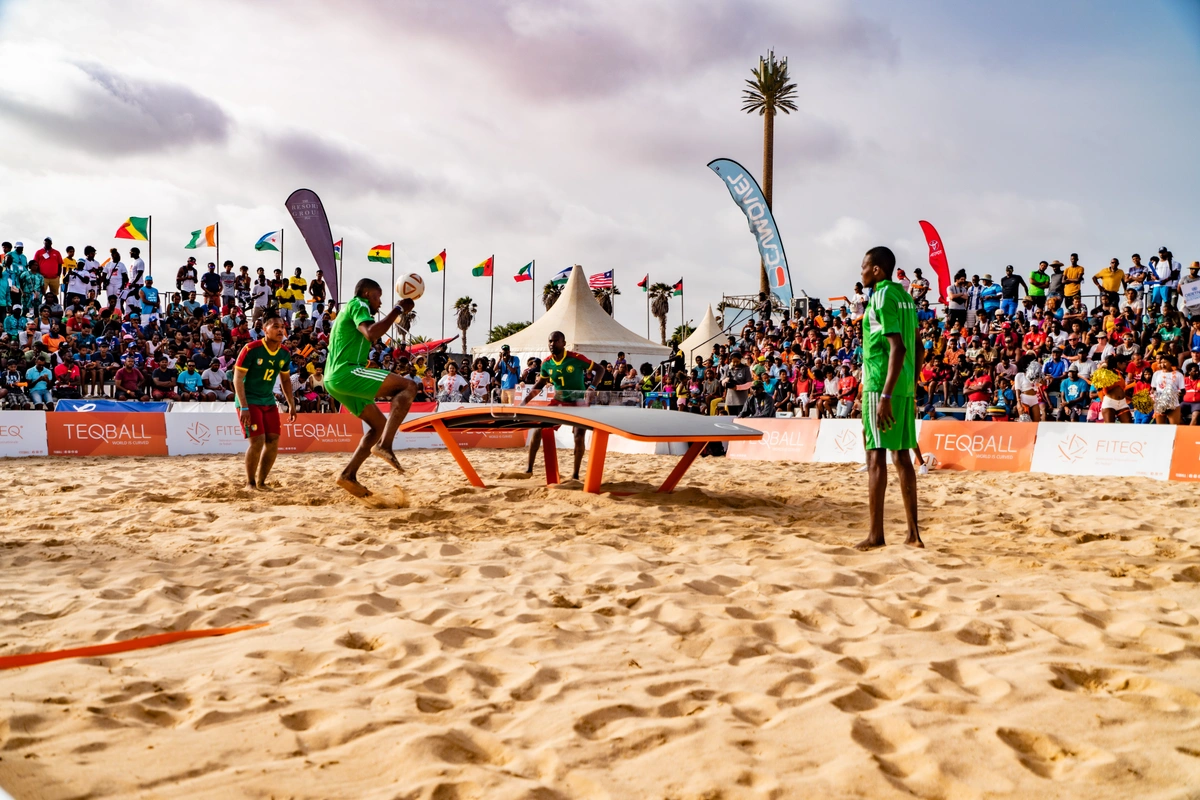 Last edition's runners-up, Nigeria with debuting athletes arrived in Tunisia. World Ranking 23rd Victor Ademoye Oyemade, Funsho Samson and Rashidat Bukola Salau are in the squad.
Madagascar is represented by Andry Nambinintsoa Rakotondrabe, Erickson Spencer Diarra Rakotonirina, Randrianasolo Fanirisoa Richia and Zambia's athletes are Chisimba Mutale, Patrick Sikazwe & Nanyangwe Natasha, while Benin is the only country that only competes in two categories, in MS and MD with Mevo Guenole Septime, Chedrac Alban Ahomadi.
.
.
The African Beach Games is a continental multi-sport event held among athletes from the African continent.
Dubbed "The Future", these Games were organized under the governance of the Association of National Olympic Committees of Africa (ANOCA)
This year, the exotic and rejuvenated Eastern coastal town of Hammamet will host the Games from 23rd to 30th June 2023.
The event brings together over 1,000 athletes representing 49 African countries, competing in 15 Beach Sports disciplines.
The games will be supported by at least 1,000 volunteers and over 10,000 spectators a day.
A comprehensive Beach Tourism schedule of cultural and recreational programmes will be held alongside the beach sports fiesta.
Ghana will be presenting the youngest set of athletes (Under 17, 18, 21-year-olds) in Open Water Swimming and fast emerging Teqball disciplines.
Ghana has also brought the smallest contingent of just four athletes in line with *"The Future"* theme of the Games.
This is to allow Team Ghana which has Martha Appiah of Berry Ladies Football Club part to explore and learn as much as possible for the next Games by which time more qualification slots would be secured.
Daily updates on Team Ghana's participation and progress will be captured via *The African Beach Games Updates* across Television and Social Media platforms of the GOC plus media partners.
.
SOURCE: www.berryladiesfcgh.com
.
READ ALSO:
.
SKB Journal appreciate you a lot for reading!  If you enjoyed this piece by Samuel Kwame Boadu, kindly hit the share button and help others to also see it. You can also like our Facebook page, so you know when we make new posts or Click to JOIN our Telegram Channel where we post JOBS + TIPS