Sweet Flag or Calamus is a creeping rhizome. The plant has bright green leaves, light brown flowers and oblong berries as fruit. The root of this plant is primarily used as medicine. It is primarily used in ulcers and other gastrointestinal problems, gastritis or gas problem (flatulence), indigestion, skin problems, joint pains, rheumatoid arthritis and even stroke. Due to its calming properties, it enhances the sense of well being.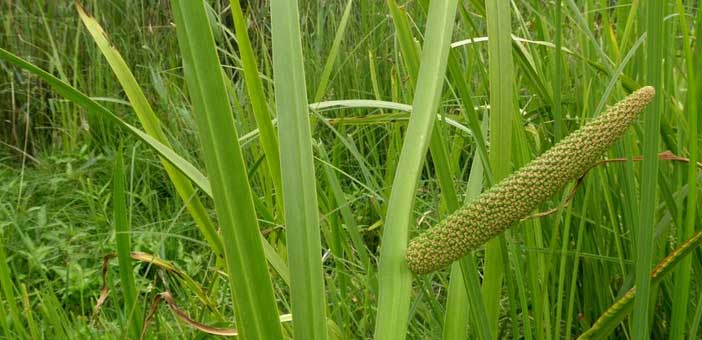 It is also used as hallucinogen and chewing it removes tobacco odor. It also works as a stimulant and helps in relaxing the muscles.
Part of plant used as medicine: Roots
Latin: Acorus Calamus
English: Sweet Flag
Hindi: Gorbach, Bach
Tamil: Vasampu
Telugu: Vasa
Kannada: Baji
10 Benefits of Sweet Flag or Calamus
Cold: This herb if taken in small quantities could loosen the phlegm and help getting rid of it. This works as a mild expectorant. Add a powdered form of bach in boiling water and inhale the vapors for fast relief. Alternatively, mix powdered calamus in honey and lick 1-1.5 tsp 2 times a day
Cough: It is very beneficial not only in cold but in whooping cough too primarily for children. Roast bach and then make a powder out of it. Take a pinch of this powder and mix it with honey. Give it to children suffering from cough and he would get relief after 2-3 doses. If the problem persists then see a doctor
Mouth Ulcer: One could get relief from mouth ulcers by rubbing the roots inside the mouth
Speech Problems: Mix powdered root of the plant in honey and apply it on tongue. This is also beneficial in speech disorders that might have occurred due to paralysis or facial palsy
Wound: Dust the wounds with powder from the root of the plant and it would help the healing of the wounds fast
Read Also:
.
Swelling: Make a paste by mixing root of sweet flag and mustard oil. Apply it gently on the swelling and it would be helpful in curing the problem
Stomach Pain: Mix calamus paste, nutmeg and harad. Take 1/2 tsp of this paste to cure digestion problems and it also acts as antispasmodic. In case a person is suffering from dysneborrhoea, this paste could help to get rid of pain and enhance the blood flow
Worms: This herb also has deworming properties. Take a pinch of its powder and mix it with honey. Give this paste to children once a month and it would kill worms
Dysentery: Root of this plant contains tannins and essential oils. Due to this content, it helps in getting rid of diarrhoea and stomach pain. Take the root paste with butter milk
Inflammation: Apply paste of the root on the inflammation and it would heal fast. Add honey and clarified butter or ghee to increase its effectiveness
When not to take Sweet Flag or Calamus
Causes Cancer: Beta-isoasarone present in Sweet Flag might cause cancer. However, the presence of this chemical varies in different varieties of the herb. Do check with the seller if the type you are buying is for consumption through mouth
Pregnancy: Avoid using this herb when women is pregnant or she is breastfeeding her baby. It might not be safe for the child in the womb or the infant
Heart Disease: This herb should not be taken in large quantities if a person is suffering from any type of heart disease. It is likely to lower the blood pressure and could also lower the heart rate which might be fatal. This is not yet proved but why to take chances. People suffering from low blood pressure should completely avoid it
Before or after Surgery: Gorbach acts on the central nervous system and promotes sleep. This could act negatively if taken after surgery with other medications which have similar effects. It is best to avoid this herb 2 weeks before and 2 weeks after surgery
Depression Medications: Do not take this herb if with medication for depression. Most of the depression medicines do not go well with it
Sedatives: Do not take it if you are taking any medication which causes drowsiness or makes you sleep(sedatives). This herb causes sleepiness and taking it along with other drugs which also have similar effects might not be good
Acidity: Bach or Calamus might increase stomach acid. If you are suffering from Gerd or acidity problem then it is best to avoid this herb
SKB News Magazine appreciate you a lot for reading!  If you enjoyed this, kindly hit the share button and help others to also see it. You can also like our Facebook page so you know when we make new posts or Click to JOIN our Telegram Channel were we post JOBS + TIPS