Top 20 Places in Osu, Accra [Nice places in Osu to hangout]
Osu is the liveliest place in Accra. Oxford Street is a 24hr hub of activity. Most of the best bars, restaurants, and hangout spots are located in Osu. Located about 3 kilometers east of the central business district, this entire neighborhood is filled with shops, eateries, bars, pubs, casinos, and nightclubs.
Osu is also known as the "red light district" of Accra. In this article, we list the top 20 places in Osu to hang out and the most visited places in Osu by locals and tourists. This list is in no particular order and we aren't sponsored by any of the companies/businesses mentioned in this post.
1. Suncity Ghana (Hotel Apartments)
Suncity Apartment Hotel can be found in Osu. It has a convenient location that allows for easy access to Accra's popular hotspots. This place has facilities such as an infinity pool, a gym, basement parking, a Citydia supermarket, a "Wine & Dine" restaurant with delectable cuisine and exclusive wines, a beer garden, a helicopter bar by the pool, and a Sky Bar with 360-degree views.
2. Bondai Restaurant & Bar, Ghana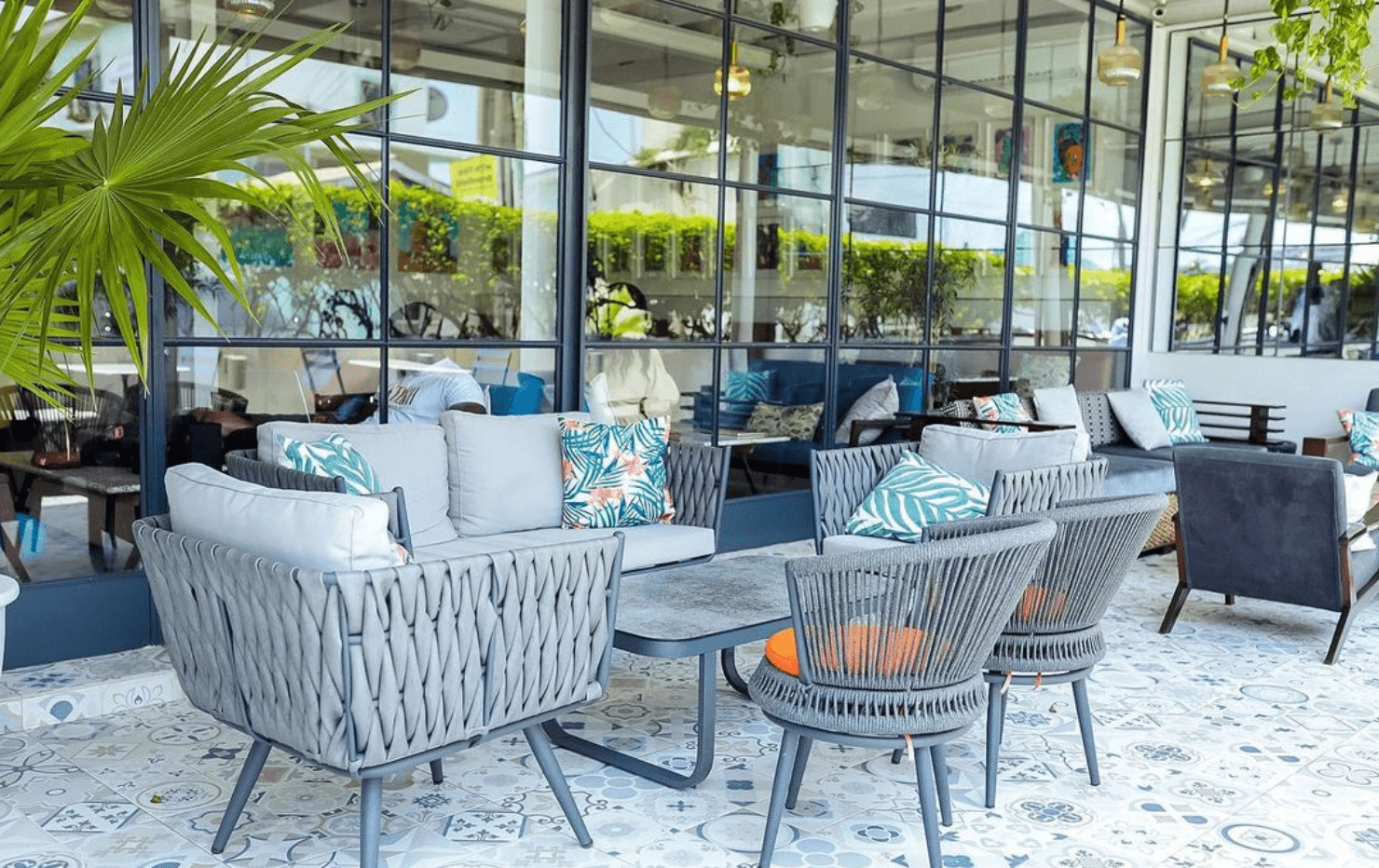 Bondai is a Restaurant & Bar part of an independent and family-run group of restaurants, specializing in healthy Mediterranean and Asian cuisine. Bondai is popular amongst locals, expats, and tourists in Accra.
3. Bloombar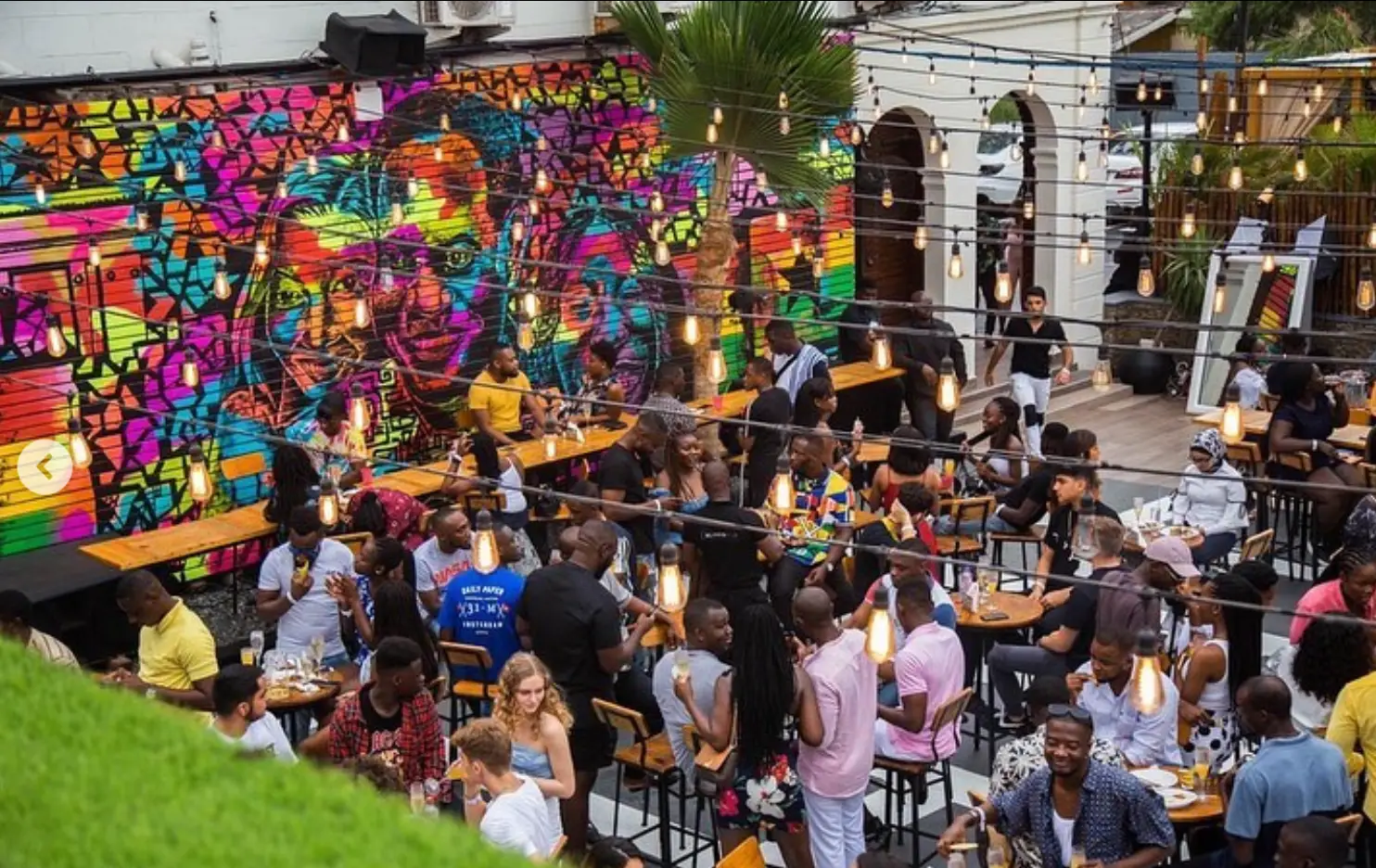 Bloombar is a popular bar/outdoor club located in Osu, this place is mostly crowded with locals and tourists especially in the months of November, December, and summer. Read more.
4. Dominos Pizza Ghana
Dominos Pizza Ghana at Osu is located right on top of the Koala shopping mall building. Dominos pizza opened not so long ago in Ghana and has since become part of the go-to places in Osu, Accra.
5. Planet Khebab Gh
Planet Khebab Gh is a Turkish restaurant/food joint located on Oxford street, adjacent to the Total Filling Station in Osu. This restaurant serves Middle Eastern and Ghanaian cuisine.
6. Front/Back
Opened not too long ago, Front/Back has managed to make it to the list of the top 10 go-to places in Osu. Front/back is a member's club, pub, and an outdoor music event center.
7. Frankies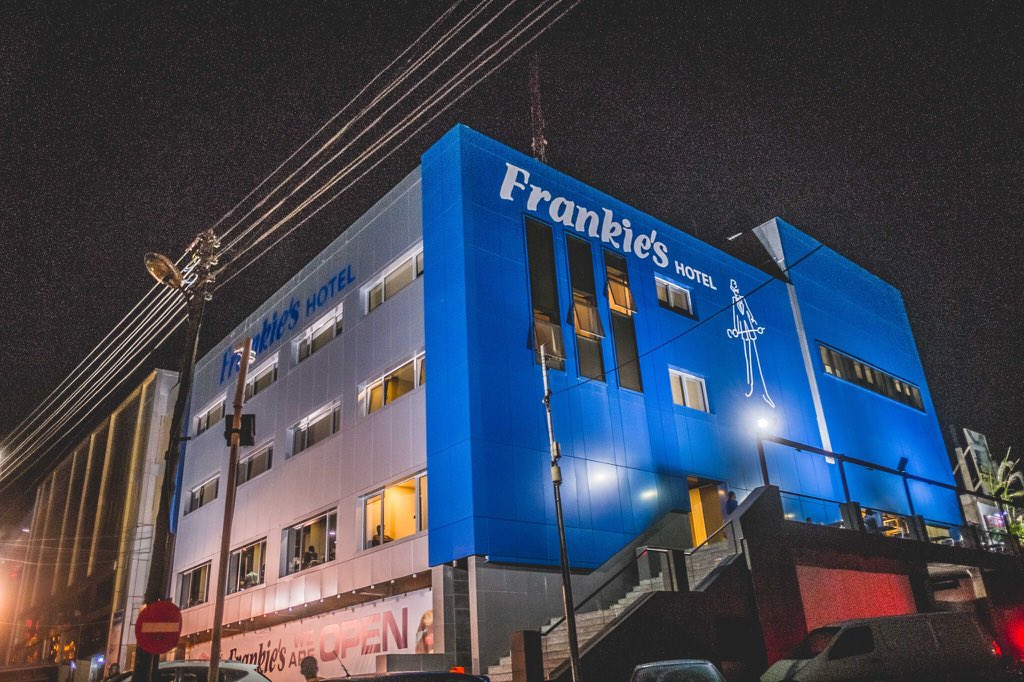 Frankies Food and Rooms located in Osu, is one of the oldest go-to places in Osu for both tourists and locals. Started as only a restaurant and ice cream shop, the company has since expanded to include hotel services among others.
8. Papaye Osu
Papaye fast food, just like Frankies, has been based at Osu since the early 2000s. Mostly packed with tourists and locals, this place is definitely amongst the top 10 places in Osu.
9. Breakfast to breakfast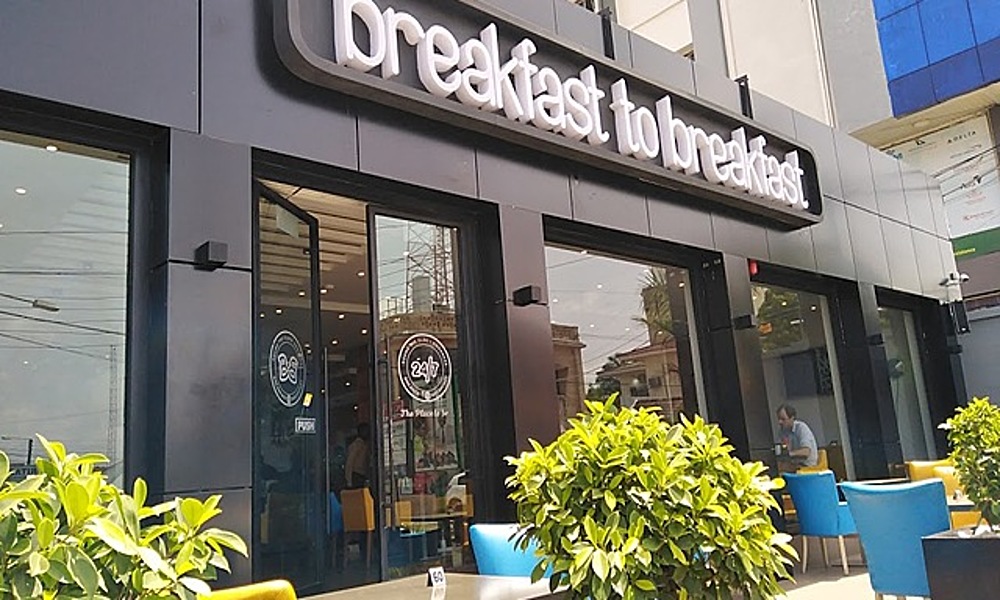 Breakfast to Breakfast is a popular restaurant in Osu, Accra. This place offers a 24/7 service and is amongst the top places in osu most people visit.
10. Shoprite Osu
Shoprite Osu is a branch of the South African Giant Retail company 'Shoprite' located at Oxford Street in Osu. From groceries to restaurants and drinks, you can find it at Shoprite Osu. This branch is popular among tourists in Accra.
11. The republic Bar and Grill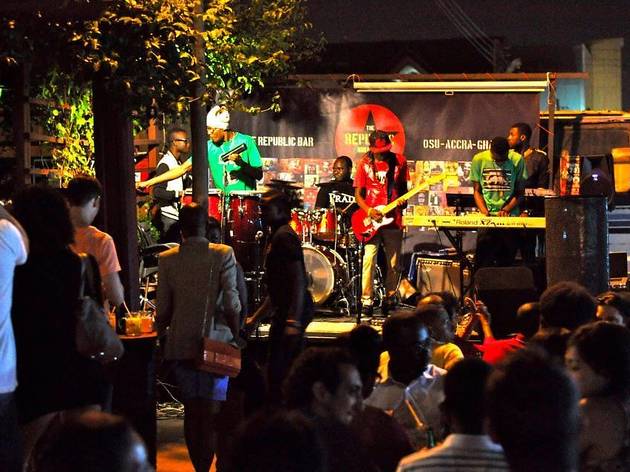 The republic bar and grill is a popular bar/pub located in the entertainment district of Osu, Accra. It is very popular among expats and tourists in the city.
12. Chocolate Sarayı, Osu
Chocolate Sarayı is a dessert and breakfast place located in Osu, Accra. Items you can find on their menu include cookies, mashmellows, chocolate pancakes, ice cream, crepes, waffels, eclairs, cakes, smoothies, chocolate shakes, and other desserts.
13. Koala shopping mall
Koala is one of the popular supermarkets in Accra, mostly visited by expats and not many locals due to its high-priced items. Koala at Osu is where you can find almost every imported food item from Europe, America, and Asia. They sell cooking ingredients, cookware, electronics, glassware and other basic food items.
14. Mood Bar & Lounge
Mood bar and lounge is located at Cantonments in Accra, near Osu. The mood bar has an atmosphere solely dedicated to the good life, enjoyment of leisure, partying, and other social activities that distract you from the concerns of your daily life.
15. Alley Bar Ghana
Alley Bar is a popular spot bar at Osu, with live music, food and drinks. The bar opens from 12p.m till midnight on most days. It has a cozy outdoor seating area perfect for a quiet get-together with friends and colleagues. Get a drink here, order a meal or just enjoy the music at Alley Bar. The bar has become a favorite of Ghanaians and expatriates alike because of its ambiance and outdoor seating.
16. Rockstone's Office [Rockz Waakye / Django Bar / AftaWerk]
Located in Osu, Rockstone's Office is a nightclub, pub, and eatery that also goes by the name AftaWerk and is also known as Django Bar. They offer live music, as well as local food and drinks. Despite the wide variety of offerings, Aftawerk is best known for its signature waakye and local drinks.
17. Serallio
In the middle of Osu, you'll find this tranquil open-air pub, grill, and events area that serves up delicious food, inventive cocktails, and music from Accra's best DJs.
18. The Woods Bar and lounge Accra
THE WOODS can be located at 3rd Ringway Lane, Osu. This bar and lounge offers relaxing drinks in a casual, friendly atmosphere. THE WOODS is open 7 days a week, 6:00pm – 4:00am.
19. Number One Oxford Street Hotel & Restaurant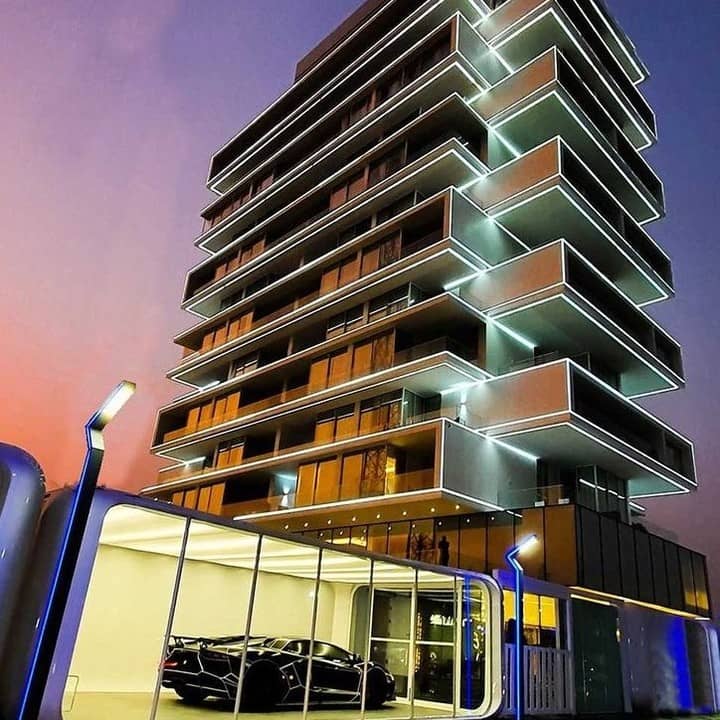 The number one oxford street hotel and restaurant is a popular destination is osu. Located right opposite the koala shopping center, this place has an outdoor pool, a restaurant, and a bar on its premises. Wi-Fi is also included throughout the facility.
20. KFC Osu
KFC Osu is a popular destination for families, students, and part-time workers who want good food without spending a lot of money. KFC Osu has a calm atmosphere for anyone looking to relax and enjoy a quick bite.
21. Buka Restaurant Osu
Buka Restaurant is a popular eatery in Osu. At Buka, you can get a taste of the energy and way of life that characterize the African continent. Food from Ghana, Nigeria, Ivory Coast, and Togo is on the menu.
22. Honeysuckle Osu
Honeysuckle is a popular pub at Osu. It has a lively atmosphere and is well stocked with drinks and a wide variety of beers.
23. Kukun Cafe Osu
Kukun is a popular breakfast spot in Osu. Serving simple but very tasty Ghanaian and continental breakfasts It also has a calming ambiance and fast-speed WIFI that is perfect for remote workers and students. This place is popular among expats in Accra.
23. Zion Thai Restaurant
Zion Thai Restaurant is a popular Thai restaurant in Osu, serving Thai cuisine. The price is really reasonable and it offers excellent Thai food.
24. The Mix Restaurant Osu
The Mix Design Hub is a restaurant and art center located in Osu Accra.
25. LEVEL BAR & LOUNGE, Osu
Level Bar & Lounge is Osu's premium lounge venue. Its chic and sophisticated décor makes it the best setting for business meetings, entertaining clients or simply unwinding after a long day at the office. Designed to be a classy dining experience with a selection of light meals, the bar & lounge also serves an impressive selection of fine brand spirits and a cocktail list with a retro twist. On some occasions, the lounge is transformed into a stylish party venue with our resident DJ setting the mood in the city's most elegant lounge bar.
View this post on Instagram
.
FAQ
Is Osu a city?
No, Osu is a neighborhood in central Accra Located about 3 kilometers east of the central business district.
Do people live in Osu?
Yes people live in Osu, mostly tourists and a few locals.
.
READ ALSO:
.
SKB Journal appreciate you a lot for reading!  If you enjoyed this piece by Samuel Kwame Boadu, kindly hit the share button and help others to also see it. You can also like our Facebook page, so you know when we make new posts or Click to JOIN our Telegram Channel where we post JOBS + TIPS.